Strengthening Ecosystems of Care and Addressing Complex Needs
Our complex care programs aim to improve behavioral healthcare delivery for individuals who are super-utilizers of the Emergency Departments (EDs) in Eastern Missouri. These patients are likely to:
Have serious mental health and physical health issues
Be homeless or without stable housing
Need a range of additional services to address financial, employment and transportation barriers
BEACN
Building Engagement to
Address Complex Needs
System ABC
Systems Change for Aging and Behavioral Health Care
MO TAYLER
Missouri Transition Aged Youth Local Engagement and Recovery
Building Engagement to Address Complex Needs (BEACN)
Building Engagement to Address Complex Needs is an innovative care model that is changing the way the system delivers care to complex patients. This is a targeted multi-prong approach that includes important partnerships with the 3 main hospital systems and multiple collaborations with Community Mental Health Centers in Eastern MO. Implementation of the prescribed model has shown a significant reduction in ED utilization and demonstrated long-term positive health outcomes among enrolled patients; these efforts are coordinated with BHN's Adult Emergency Room Enhancement Program (ERE). BEACN utilizes innovative funding strategies to support patients being cared for in the community.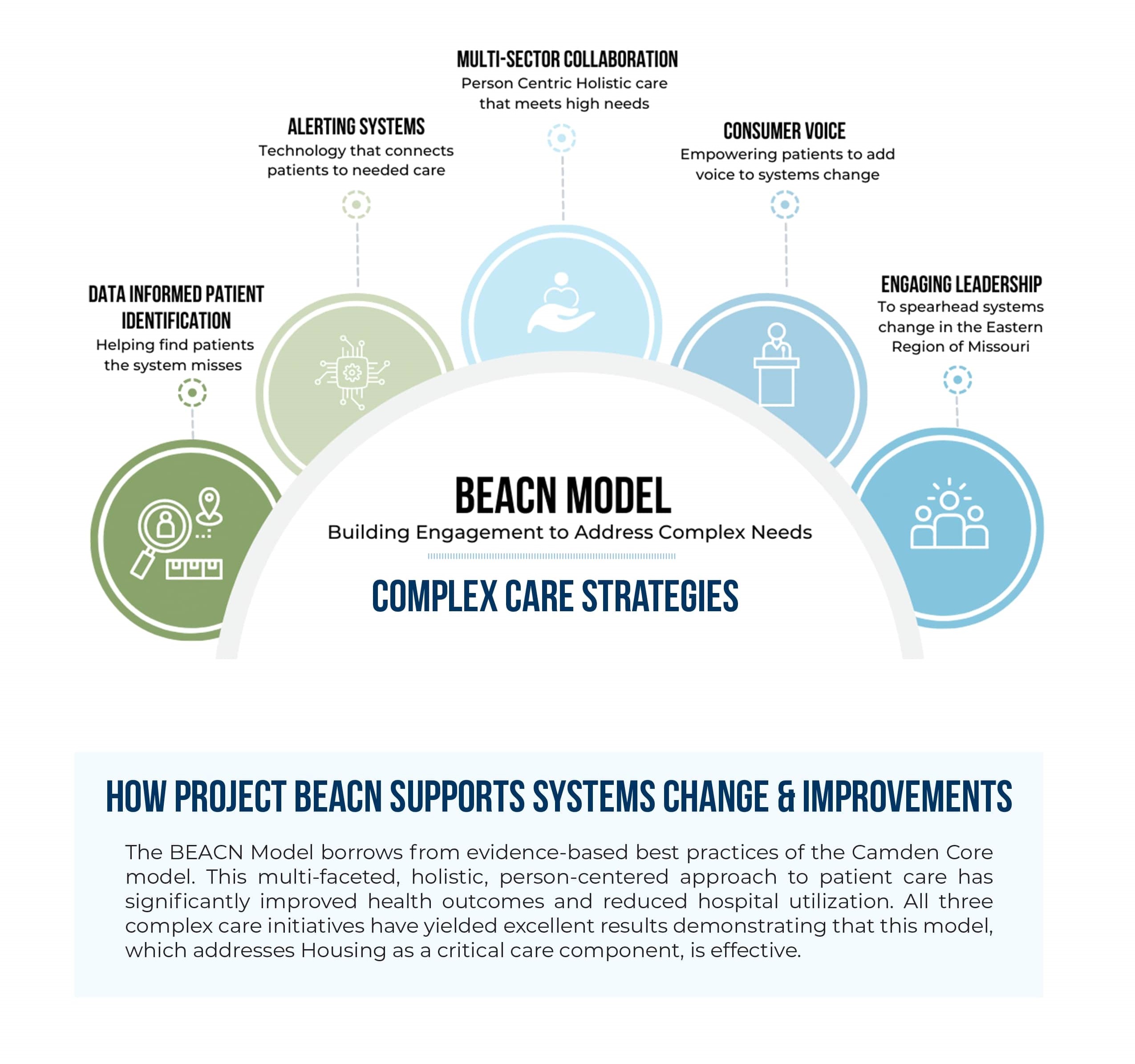 Project BEACN (systems change)
BEACN is spearheading structural change in BH delivery for complex patients in Eastern MO using a model that incorporates:
Regional Data Sharing

Establishing Alerting systems connecting patients to needed care

Multi-sector Collaborations- Regional case staffing

Incorporating patient voice

Engaging Regional Leadership

Evolving the Regional response to complex patients Data from this project is closely analyzed to determine the impact on patient outcomes and hospital costs
Clinical BEACN (clinical care)
Clinical BEACN provides a "care transition team" to complex care patients through a subcontract with Places for People.
These patients receive case management services, flexible funds to meet short-term needs, and housing support for up to 12 months.
Treatment stipends are provided to the provider agency for up to six months while applications are made for Medicaid or other payor sources.
Data from this project is closely analyzed to determine the impact on patient outcomes and hospital costs. 
Email
Anita Udaiyar
Director of Community Programs
Places for People
Places for People is a key partner in addressing complex needs within the populations of focus served by both the BEACN and Aging/BH programs. Their staff delivers clinical services and housing supports and serves more than 2,300 people annually, offering an individualized approach to health and healing. In July 2017, Places for People became a Certified Community Behavioral Health Organization. PFP was the only one in St. Louis City or County at the time. CCBHO is a federal designation. CCBHOs focus on improving access to behavioral health care, crisis response, and providing effective treatment approaches across the lifespan.
Systems Change for Aging and Behavioral Health Care (System ABC)
This initiative works to reduce fragmentation, fill service gaps, and facilitate integration between aging and behavioral health (BH) agencies to foster a system of community care that positively impacts health outcomes for older adults.
Target Intervention Group
The target intervention group is St. Louis City/County aging and BH community-based service agencies, who serve as the safety net for adults 60+. 
Target Impact
Through agencies' systems change efforts, we target impact for clients with BH needs who are underserved, high-risk, un/under-insured, low-income, and  Black, Indigenous, and People of Color (BIPOC).
Email
Britney Parson
Program Manager
Missouri Transition Aged Youth Local Engagement and Recovery (MO TAYLER)
This initiative is a 5-year SAMHSA-funded collaborative initiative of Missouri Department of Mental Health (DMH), with six funded entities in the eastern region: BHN, as co-project management with DMH; three DMH-contracted providers for service delivery (BJC, Behavioral Health, Compass Health Network, and Places for People); Behavioral Health Response for community trainings; and Missouri Institute for Mental Health (MIMH) for evaluation.
Missouri is among a cohort of national grantees of the Healthy Transitions Initiative, whose purpose is to expand access to developmentally appropriate, culturally and linguistically responsive services and supports for youth and young adults of transition age (16-25) who have, or are at risk for developing, serious mental health challenges.
Long term Goal In addition to project management, BHN also leads efforts to enhance the statewide infrastructure of resources for emerging adults, their caregivers, and the professionals who serve them.
Email
Nicole Wood
Senior Program Manager


LINCS projects for both adults and youth are funded by the Missouri Department of Mental Health (DMH)